GellyBall by EAG
Lower Impact Shooting experience for all ages
With our battery-powered, automatic blasters, players shoot at opposing players and targets in a variety of gameplay scenarios at your place, indoor or out! Players age 5-75 love playing GellyBall.

The gel-based water orb ammunition feels like getting snapped with a rubber band. Players do not generally get wet or messy*
Book Your Mobile Event
Learn more about GellyBall
GellyBall Pricing and Options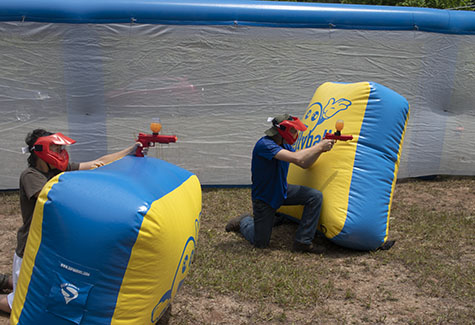 Open Play Events
Shared access
Per player per game or per hour
Up to 10 players at a time
Includes mask and blaster
No appointment needed
during specified events only
Limited availability
Please, no food or mess.
Games are about 8min.
Price Varies by Event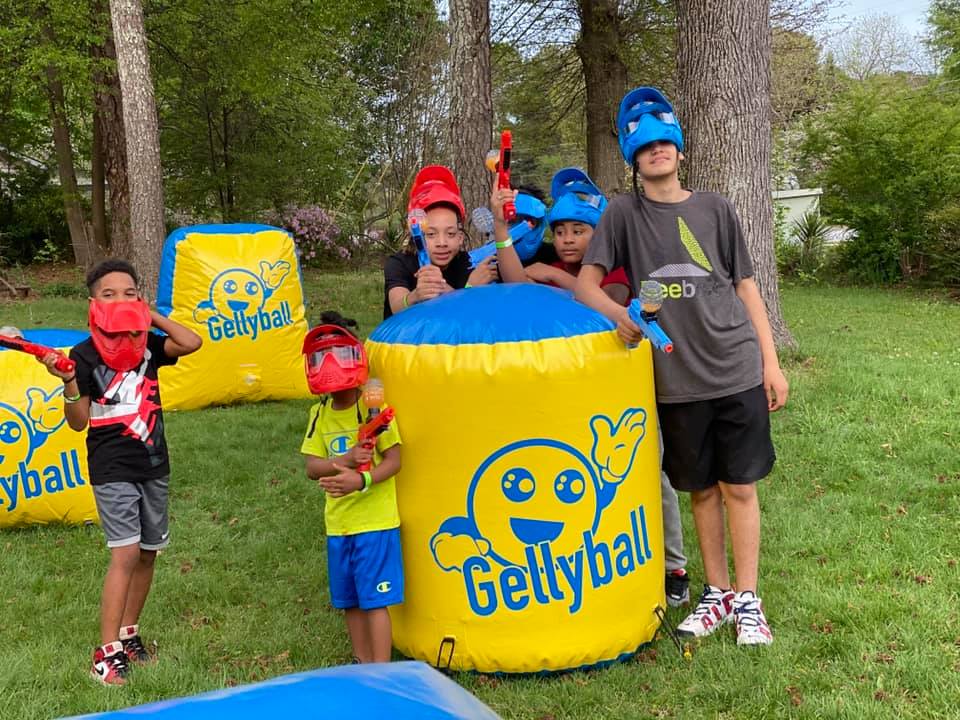 GellyBall Party Basic
60 minutes
Your location
10+ bunkers
Up to 60 ammo hoppers
Recommended for up to 15 players
(Up to 10 players at a time)
Use up to 10 masks and blasters
EAG Game Commander

*Any day by advance ap

pointment

**Breaks use available play time
***Additional Travel Fee May Apply
****Bunkers may be inflatable or foldable
Starting at $349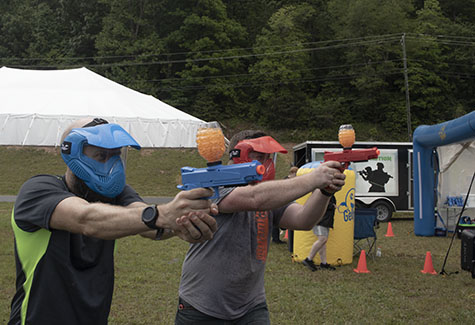 GellyBall Party Standard
90 minutes
Your location
10+ bunkers
Up to 80 ammo hoppers
Recommended for up to 20 players
(Up to 10 players at a time)
Use up to 10 masks and blasters
EAG Game Commander

*Any day by advance ap

pointment

**Breaks use available play time
***Additional Travel Fee May Apply
****Bunkers may be inflatable or foldable
Starting at $439
GellyBall Party Plus
120 minutes
Your location
10+ bunkers
Up to 100 ammo hoppers
Recommended for up to 30 players
(Up to 10 players at a time)
Use up to 10 masks and blasters
EAG Game Commander

*Any day by advance ap

pointment

**Breaks use available play time
***Additional Travel Fee May Apply
****Bunkers may be inflatable or foldable
Starting at $499
Upgrade Options
Additional Ammo ($3/hopper)
Unlimited Ammo Upgrade – $50 Basic/Standard Packages, $75 Plus Package – covers entire party
Additional Players (at a time) – $15/ea./hr. If you need to play more than 10 at a time, the flat rate per additional player on the field is $15 per player per hour. If you need to play 20 kids at a time, the extra charge would be $150/hr.
Mobile Arena – $400 (Netted off 33'x66′ inflatable arena *requires grassy area to stake it down)
Sharp Shooter Target Booth Challenge – $129/hr add-on to any package. Contact us for stand-alone pricing.
Extended Party (Need a little more play time? $99 per 30min and 30 more hoppers)
Night Play (Parties ending after 8pm will incur additional fee – TBD)
Glow Mode (Adds glowing tracer ammo with UV flashlights connected to each Gel-Blaster – dusk/dark only. TBD)
*Your Location – Travel included up to 30 miles from our base (Sylva, NC). Over 30 miles will incur a travel fee.
A's to your GellyBall Q's
How is GellyBall Played?
Depending on the type of event, age group and number of players, we run a variety of games which may include team battles, capture the flag, traitor town, one-on-one or two-on-two championships and more. Your EAG Game Commander will organize and run the games during your party.
We typically play in teams of up to 5, so with more people, we will have more teams and quickly rotate between games so everyone gets lots of play time.
Our safety rules and conduct expectations are give by the EAG Commander before beginning. We expect respect for other players, as well as our staff, equipment and the location.
There should be no physical contact between players or equipment. Our arena, bunkers and equipment are not designed to be climbed upon or moved. We do not tolerate aggresive, rude or damaging behavior related to other players, our staff or our equipment.
What should I wear?
When weather allows, we recommend wearing a couple of layers until you know how the impact will feel. Bring or wear something with long sleeves and long pants until you can decide whether to shed a layer.
We also recommend wearing older clothes that can get dirty or stained just in case. 
We play in shorts and tee's all the time. 
Glow mode tracer rounds (if used) can leave a colored residue on clothes and skin. In our experience this fades and washes out, however, we always recommend wearing clothing that can get dirty and possibly even stained.
What equipment is required?
We provide all the necessary equipment as part of your party fee.
Our equipment includes: our battery-powered automatic Gel Blaster pistols, full-face protective mask and ammo. If you are playing glow-mode, we include the glow ammo and mounted UV lights.
You do not need to own or bring any special equipment.
What ages can play GellyBall?
Every player is different. We allow players as young as 5 because the equipment is easy to use.
When booking your event or considering walking-up, keep in mind that younger players will have a hard time participating with older players and may face higher risk of injury when playing with older or larger players.
How Many Players can Play GellyBall?
You can actually have as many players as you like. We do not limit players nor charge per player. We play up to 10 at a time. If you have more than 10 players in your group, we will simply create more teams and rotate so everyone gets to play.
If you have many players, we recommend unlimited ammo  and consider more time or other upgrades.
What if I run out of ammo?
We include enough ammo in each party package for 10 players to play the entire time. Some players use more ammo more quickly. We instruct players to shoot in short bursts and nto to waste their ammo. We reload ammo only in between games. When your party runs out of ammo, you may purchase more or upgrade to unlimited (while supplies last). It is best to upgrade before your party so we bring enough extra ammo for your party.
Does it hurt to get shot?
Each person's sensitivity to the impact is different.
We compare the feeling to getting flicked with a rubber band.
GellyBall is much lower impact than paintball and airsoft.
Impact particularly at close range and on bare skin may leave a temporary red mark. Red marks on bare skin or through thin or tight layers of clothes are common from close range combat – in our experience, these marks are not painful but can be apparent for some time, particularly on sensitive skin.
Do you clean the equipment?
Yes! Between users of our equipment we clean and disinfect the gear.
is a waiver required?
Yes. Please complete a waiver for each participants using the tab at the bottom of the screen or this link (click here).
Our electronic waiver can be completed in advance and must be on file for every participant. For your convenience, a parent or legal guardian may easily include multiple minors on one waiver.
Do you sell GellyBall Equipment?
Yes. We are an official, authorized dealer for Gellyball brand equipment. We carry a great supply of equipment for retail sale. Click here for info
What is the GellyBall Arena made of?
Your GellyBall play area will depend on the location you've chosen for your event.
We will set up 10 bunkers for your players to use during play. Bunkers may be inflatable or other foldable or portable items.
If you choose to have us bring the our arena, we will set up a 33'x66′ netted off arena to contain the action.
Our shooting gallery target booth game is also a net-protected area for 2 players at a time to test their accuracy skills while the scoring system keeps track and identifies the winner of each round.
How long does a battery last and what if it dies?
Batteries in the GellyBall Blasters should last your entire party if players follow instructions. We bring spare batteries and can change out blasters or batteries as needed to ensure your play time is not interupted. Failure to follow instructions may cause batteries or ammo to run out prematurely. While we have some extras on hand, it is important to follow all instructions.
A's to your General Party Q's
Where does the party take place?
GellyBall from EAG is a mobile experience. We bring everything to your location of choice.
 Please ensure your selected location will allow our GellyBall experience. 
The area should be easily blocked off or a safe distance from spectators or those not involved in your event. 
Spectators should wear provided safety goggles and will be informed they may be hit by stray gellyballs.
If your location is indoors, you will need to clean up after the gellyball experience.
You will be responsible for cleaning and any damage or loss to the location.
Will an EAG worker be present during my party?
Yes! One or more of our EAG staff members will  be on site to setup the experience, run the games and load the equipment afterward.
We do not rent equipment without an EAG staff member to operate and manage it.
You are the party host for your event.
What does EAG provide with this experience?
We bring everything you need for a good time
Automatic, Battery-Powerd, Gel-Blaster Pistols
Protective GellyBall FaceMasks
Inflatable Bunkers
Ammunition (Hydrated GellyBalls)
Extra Equipment 
Retail Packs
Safety goggles for spectators
Game Commander
Game Accessories
How much are additional players?
GellyBall plays up to 5v5. This means up to 10 players at a time can participate. If you have more than 10 players, we will simply rotate players and teams every few minutes.
At this time (as of Oct 2021), we do not charge by number of players. Instead we charge by the time and ammo you request.
Your event has an included amount of play time and ammo. Each player will get as much time as possible within that alotted time. We will set the length of each game to allow all players a chance to play within your selected time frame.
What is the cancellation / reschedule policy?
If you must cancel or reschedule your party, please do so with as much notice as possible.
With at least 72 hours notice, there will be no penalty for cancelling your party.
With at least 48 hours notice, there will be no penalty for rescheduling your party (first reschedule only and must be rescheduled to take place within 30 calendar days of the original date).
Fee for cancellation (with 24-72hours notice) will be equal to 50% of the party costs as discussed, listed or quoted.
Fee for rescheduling (with 24-48 hours notice) will be equal to 50% of the party costs as discussed, listed or quoted.
No-shows (as well as cancellations and reschedule requests with less than 24hrs notice) will be charged the full amount the party.
Notice of cancellation or reschedule must be made by positive phone contact (which will be immediately followed with a text or message followup) or in writing via Facebook messenger to our business page or text to our business number.
Should you need to reschedule a second time, an additional fee equal to 25% of the party cost will be incurred.
Exceptions may be made on a case by case basis at the sole discretion of Elite Action Gaming management.
How much does a private party cost?
Cost depends on your choice of :
Play Time
Ammunition
Optional Upgrades
Location
Can I book an 'after hours' party?
If you have special requests or need an 'after-hours' party, please contact us to discuss options and availability.
After hours will incur an additional fee and is dependent on availability of staff.
How much ammo do I need?
Ammo Hoppers hold appx 700 GellyBalls each.
We have included enough ammo in each package to keep 10 players going for the duration of your selected time if they follow instructions and game play objectives
If you have more than 10 players, particularly young players, or just want to make sure you are covered, you may want to consider our unlimited ammo upgrade.
What if we need more time?
If you need more time, we will try to accomodate, depending on what is scheduled next and staff availability.
Please do not take additional time for your party without making arrangements first (preferably in advance of the party).
Additional time may incur additional charges.
Contact us about your specific needs (before booking, when possible) so we can customize a party event for you.
If you choose to take a break in play, the game time 'clock keeps ticking'. Unless you have made other arrangements in advance, the available game time is consecutive whether you use it all or not. 
We recommend doing your other party activities before or after the allotted game time in order to make the most of your experience.
If you forsee needing to take a break from play, we can arrange that ahead of time for a small fee to cover our staffing and equipment.
Do you have a location we can use?
We have access to a few locations that you may consider for your party. Some may charge an additional fee which is between you and the location. 
How long does it take to set up?
When you book, we will agree upon a starting time. Our EAG staff will arrive approximately 45-60minutes prior to that time to setup our equipment. Please ensure we will have access to your location to set up an hour before your start time.
How does the party work?
1. We arrive 45-60 minutes prior to the agreed upon start time of your GellyBall Experience at your selected location. At this time we will discuss any outstanding questions and arrangements.
2. At the selected start time of your GellyBall experience, an EAG staff member will give  brief safety instructions and explain rules and how to play.
3. Our EAG staff will run games of up to 5v5, rotating teams/players for the duration of the selected time frame. 
4. Ammunition is reloaded between games until the selected amount of ammo is consumed. Additional ammo may be available for purchase. Unlimited ammo may be added to the party in advance.
5. At the end of your selected time period, the EAG staff will pack up all equipment. Any outstanding payments will need to be made at this time.
6. EAG staff is not responsible for cleaning up from your event. We will remove our equipment. Gellyball remnants are biodegradable and non-toxic. 
*Should you decide to do GellyBall indoors, it is your responsibility to clean up after the event. EAG staff may be available to assist for a fee.
Do you offer food/drink?
Not at this time. We bring the mobile GellyBall experience to you at a location of your choosing. We do not bring or offer any food/drink items.
What costs extra?
We have several options that will incur additional cost:
1. After Hours – if you party request is after our normal operating hours we may charge an additional fee
2. Additional Ammo – by hopper or our 'unlimited' upgrade
3. Glow Mode – (glowing tracer rounds powered by blaster-mounted UV Flashlights
4. Additional Play Time
5. Damage to our property or equipiment will incur additional fees on a case by case basis.
6. Your location may incur an additional travel fee.
7. Mobile Arena – our 33'x66′ inflatable netted arena.
8. Shooting Gallery Target Booth Game System
9. Additional or Advanced Bunkers/Barriers
Can I change my party details?
Absolutely! If your plans change and you need to alter the party details, you may do so.  You can change the party plan, add ammo or participants or add time. Just contact us to make necessary arrangements with as much notice as possible.
Most parties include several 'up to' features like participants and ammo. We do not discount or pro-rate the party packages if you don't use all of the included features.
If you need a completely custom party – please contact us to discuss options.
How can I book a party?
At this time please reach out to use to book your party. Our online booking system will be available soon.
This allows you to review all options and features and add-ons and pick a date and time.
*We will review your request as quickly as possible and confirm it for you or reach out to adjust the schedule if necessary. While we strive to keep the calendar up to date, availability on the booking system does not guarantee that time is available for our staff. Therefore, we will review your request and confirm or adjust as quickly as possible (usually within 30 minutes). Generally, a credit card is required when you submit your booking request to hold your place.
If you do not wish to book online, you can reach out on facebook messenger or text us or leave us a voicemail and we will reach out to you to confirm the details and get your event scheduled.
Sharp Shooter Challenge
1v1 Competition
Championship Tournament
Live Scoring*
Challenge your friends and family to crown the fastest and most accurate shooter.
Book the Elite Action Gaming Sharp Shooter Challenge activity with the mobile arena or as a stand-alone experience.
$129/hr add-on to any party with free setup
$59 Setup + $129/hr – standalone
GellyBall Party Packs "To-Go"
Throw your GellyBall Party at home AND
KEEP ALL THE GEAR!
Includes:
10 GellyBall Blasters
10 Hoppers
10 Batteries with charging cables
10 safety glasses
60,000 hydrated GellyBalls ready to use
100k dehydrated GellyBalls to use later *Upgraded Masks and additional ammo available for purchase
Blasters/Hoppers/Batteries are tested in working condition. Red/Blue blasters are refurbished and white blasters are new.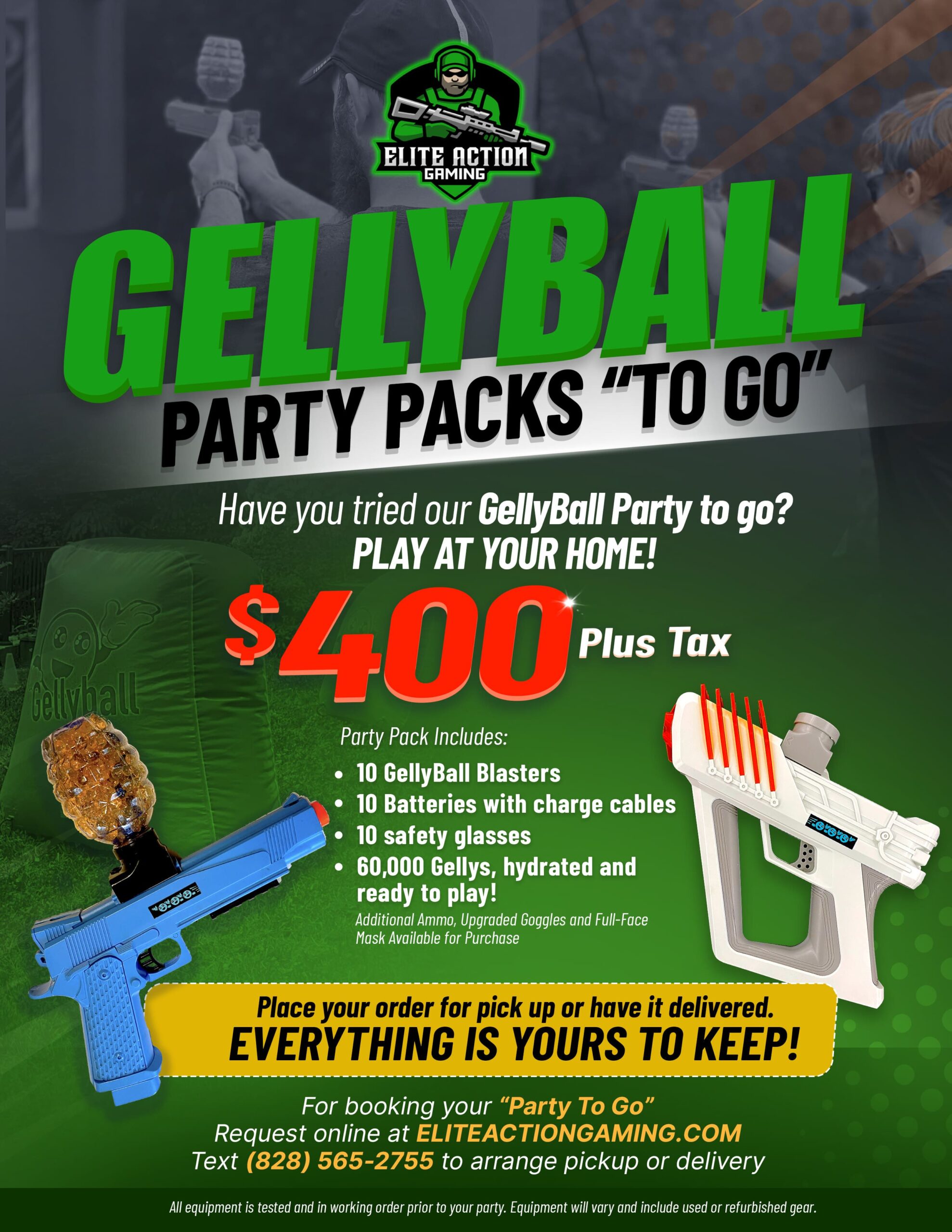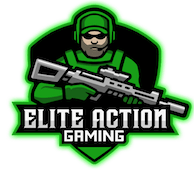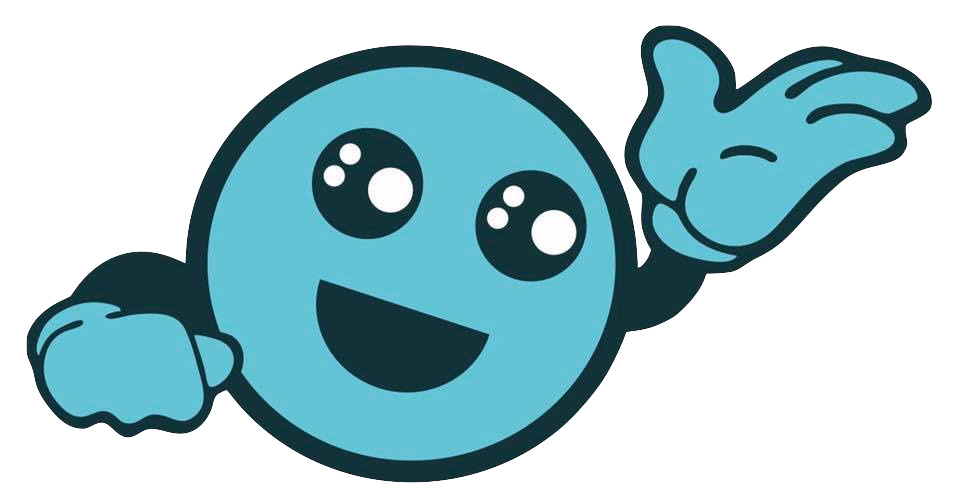 Your Official WNC GellyBall Brand Dealer